3 iPhone 4S Blogging Apps for Bloggers
3 iPhone 4S Blogging Apps for Bloggers

,
Blogging for better ends means you need to work hard and harder before you can achieve the best of results you've wished to achieve. In the blogosphere, bloggers need to be very smart in order to reach the possible ends they are aiming at. Smartphones, such as the iPhone, give bloggers more power to do what they love to do best, which is writing to help others.
In order to blog like a professional, you need to amass every possible opportunity you have to make sure that you achieve your aim as a blogger - which in most cases is to build a successful blog. You need to know how to make use of the modern technology to drive your blog for a better result. In this article are three iPhone applications that you can use for your blogging activities for a better blogging end.
If you have an iPhone with you, getting your contents ready for publication as a blogger will become very easy. The reason for this is that there are many apps out there that you can install on your iPhone in order to perform your blogging activities perfectly. There is nothing you are looking for on your iPhone for blogging that you won't find. If you are looking for an app that can make writing your blog posts easier, you will get countless of them. If you are looking for an app that will give you stress less access to all your social media accounts with a single click, you will get it.
In this article, I have carefully listed below three useful and powerful iPhone app that you can use for your blogging activities for productivity.
WordPress for iPhone is one of the best apps which I've ever seen on iPhone that can make blogging easier for the person who is using it. Since the time I have been blogging online, this app is one of the secrets behind my blog's success because I used it mostly to write posts and edit articles even while I'm traveling.
Useful features of WordPress App for iPhone
Ability to write and edit posts on your iPhone
Ability to add images to blog posts right on your phone
Moderating comment at ease
Ability to check your website stats with a single click
Twitteriffic is one of the best Twitter applications I've ever used since I've been blogging online. Twitteriffic for iPhone makes it easier for bloggers (especially those who love to stay up to date with their friends and followers on Twitter), to share contents with their friends and followers.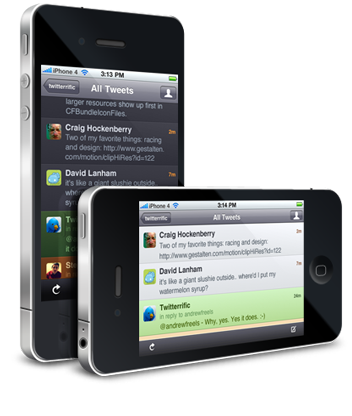 With this app, you can share your latest blog post's link with your readers and followers via Twitter easily. There are more tasks you can use this app for, tasks such as tweeting and retweeting with your Twitter account on the go and some other things.
Evernote is another app for blogger's productivity. With evernote, you can write and process your to-do-lists for future reference. You can write about the tasks you wanted to do on your blog the next day or the type of plugins you are going to download and install on your site and some other things.
Useful features of Evernote for iPhone
Ability to create text
Create a to-do lists
Search for tasks you've entered before that you might have forgotten.
Create single notes and many more others
These are the three apps I have been using on my iPhone 4s and it is working perfectly for me. So, I implore you to get one for yourself too.
Olawale Daniel is the author and owner of techatlast, a technology blog that focuses on latest tech news, SEO, Blogging and SEO helps. He also has another blog that deals in latest security tips.
Incoming search terms:
You would also be interested in:
Shortlink: